Fast Delivery throughout Ireland
1- 3 Days Delivery in Ireland. We use An Post Parcel Express. All our products are sent to your door from our Shop in Co. Kerry.
Don't Hesitate to Contact Us
If you have any questions about sizing or you need more product information you can talk to our product specialists via live chat or Call Us on 066 7120088, we're always ready to help.
Description
A toilet seat that fits in with the rest of your bathroom.
The Serenity range of raised toilet seats makes it easier to sit down and get up from the toilet. They are designed to look as close to a standard seat as possible. The smooth edges, concealed fittings and high gloss finish make it easier to clean, and therefore more attractive.
The Serenity range has adjustable brackets for the best fit. It is easy to install and quick to remove for travel or when no longer needed, without any tools.
Weight limit: 220kg / 34 stone / 485lbs
Raised toilet seats are a simple way of minimising excessive bending and over-balancing for those with limited mobility. It can be fitted securely to any toilet in seconds as the brackets are easily adjusted by hand.
Gordon Ellis and Co. are acknowldged experts in raised toilet seats. They have a seat to suit almost every need, producing the widest range of seats of any manufacturer.
Raised toilet seats come in three standard sizes: 2 inch (5cm), 4inch (10cm) and 6 inch (15cm). Their range includes toilet seats that can be easily removed for cleaning, seats for bariatric or dementia care, and seats with arms or on a frame.
To get the perfect position: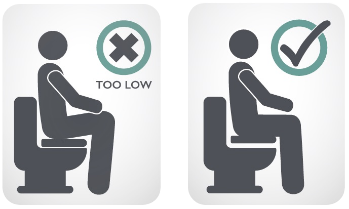 To get the perfect position, your knees and hips should be at the same height when sat on the toilet seat.
A seat that is too low can be uncomfortable and more difficult to stand up from.
1. Measure the distance between the floor and back of the thigh, just behind the knee. This is the recommended seat height.
2. Measure the current height of the seat, and subtract from the first measurement.
3. The difference between the two is the measurement of the raise required.
Payment & Security
Your payment information is processed securely. We do not store credit card details nor have access to your credit card information.
GET IN TOUCH
We would love to hear from you if you have any questions on any product on the store, or indeed if you don't see what you are looking for.  You can contact us via the Genie chat button below or else via our contact us page here. 
GOT A QUESTION?
Check out our Frequently Asked Questions (and answers!) here.  If we don't have your questions listed please get in touch with us here. 
TAX FORMS
If you would like to claim your tax back on your purchase you will find the necessary forms below for the Revenue Commissioners:
We would love to hear from you if you have any questions on any product on the store, or indeed if you don't see what you are looking for.  You can contact us via the Genie chat button below or else via our contact us page here. 
How can I contact you?
To contact us please click this link and that will give you all our contact details 
What are your opening hours?
We can be contacted directly Monday to Saturday between 9:00am to 7:00pm
Are you open during lunch hour?
Yes, we can be contacted anytime during office hours 9:00am to 7:00pm
Do you have a retail store that I can visit?
Yes, we would love to have you visit our large Retail Showroom called Medical Mobility which is located in Farranfore, Co. Kerry. For Directions just click the tab that is shown on the map at the bottom of our homepage.
Do you supply to members of the public?
For nearly 30 years it has always been our priority to deal directly with the public and be Customer led in the Products that we supply. We are recognised for the level of service we provide for all our Customers   
What is the cost of shipping?
A charge of €5.50 applies on all products to anywhere in Ireland.
Next-Day delivery on most items ordered before 12 noon Irish time.
For any Shipping outside of Ireland please contact us for our competitive rates.
How long will I have to wait to receive my order?
If it is a stock item, once we receive the order before 12pm you will receive next day delivery in most cases. An Post advise us delivery is between 1-3 days but they have provided a fantastic next day service to date. UK orders may take between 3-5 days. If it is a non-stock item it will take longer but we will communicate with you to give an accurate delivery date. Generally it will be within a week from time of ordering. We understand the need to receive our products as soon as possible so we make every effort to deliver without delay.
If my question is not answered who can I contact?
If you have any further questions which are not answered in the above please feel free to email us at info@mobilitygenie.ie and we will answer you directly and add it to our FAQ page.
Many of our customers qualify for tax return ....